Splash
By: Baine Kelly
Splash started out as online story based in Baine Kelly's Sable World. Splash is now an award winning Novella available in print and ebook. The story introduces you to some of the characters in Baine's Sable World Series. It is now available from Amazon, Barnes & Noble and other fine retailers.
| | | |
| --- | --- | --- |
| | | You can also buy Splash from these fine books sellers online. |
Splash was awarded a IBD award from Indie Book of the Day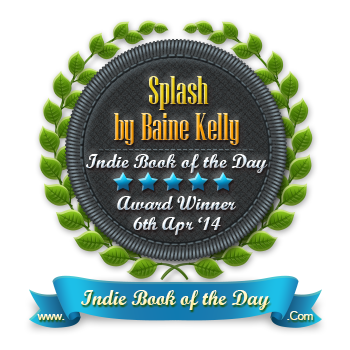 What lengths would you go to for your own survival and the survival of your long lost love?

Sariah Bartlett has spent the last one hundred and forty-eight years confined to a Manor in England enduring daily blood transfusions for her own safety and the safety of everyone around her. Can she control her thirst long enough to move to a private laboratory in Virginia where a new drug has been created to help her control her hunger? Facing a dangerous journey, with darkness from her past chasing her, Sariah will have to turn to the one person she despises the most in order to survive. The man she thought she loved, the man that left her over a hundred years ago.

Nathaniel Collins has worked in a private laboratory for decades trying to find a way to save Sariah. Leaving her was the hardest thing he had ever done. Now with his invention of Splash, a blood pill that dissolves in liquid, he can help ease her thirst.  He finds himself trying to protect Sariah along with his invention that others are unwilling to accept. Now he has to fight for their lives as well as win the heart of the woman he has never stopped loving. If only he can gain her forgiveness for what happened over a century ago.